Summary – WorldWinner
WorldWinner's 'SkillGammon' offers cash and free tournaments in a variety of formats. In SkillGammon you play against the computer but in competition with other players of a similar skill level who are doing the same. The game rules differ somewhat from traditional Backgammon so that the outcome is much more dependent on your own skill and strategy and less on chance.
Note: Players from some US states may not play cash games at World Winner. The free games are still available.
WorldWinner Backgammon
Cash or Free SkillGammon games available.
You can play against yourself, to try and beat your personal best.
Or against other players, where you're matched with opponents of equal skill.
Or simply challenge a friend.
Cash players compete for cash and merchandise prizes. Also earn WorldWinner Rewards points and Victory points for participating in cash competitions.
Free players play for Victory points and to increase your Player Level.
About SkillGammon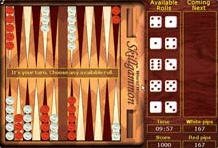 Skillgammon is a strategic, skill-oriented version of Backgammon that removes some of the elements of chance from the game.
You play individually against a computer-controlled opponent, then your score is pitted against other players who are doing the same.
Instead of rolling dice, you select from up to five different possible dice rolls.
In Skillgammon there is no concept of doubling, and thus no doubling cube.
There is a time limit of 10 minutes per game.
You start the game with 1000 points. Then points are added to or deducted from this depending on move made as the game progresses.  You can also receive a bonus for completing within the time limit.
Gaming Software & Website Features
Games available
WorldWinner's range of games includes:
Strategy games such as Skillgammon and Chess.
Card games
Arcade games
Word games
8-ball pool
WorldWinner also has a subscription-based bridge offering, e-bridge. Players pay a subscription fee – either monthly or annually – and compete for World Bridge League points or American Contract Bridge League points.
Player rankings
'FairMatching' System: each player is assigned a FairMatching Rank that is determined on a game-by-game basis, based on their performance in that particular game. They are then matched with other players whose ranks are closest to theirs.
Free Members are also be matched according to the FairMatching System.
Tournaments
World Winner offers a variety of tournaments, with entry fees starting at $1.
Prizes start at $1.60 and increasing depending on their entry fee and the number of players who enter a tournament.
Direct Challenges: 2-player competition where players compete against another player of their choosing.
Matched Competitions: a pre-set number of participants (typically between 2 and 30). The tournament ends when the last player finishes the game.
Lobby Competitions: (currently only offered in 8-Ball Pool and Chess). Two players play directly against each other, at the same time, through a game Lobby. Players can choose their own opponents based on their FairMatching Rank.
Ladder Challenges: Players compete one-on-one for rankings on the Game Ladders. In addition to the prizes for winning their individual competitions, the top 50 players on the ladder receive daily Reward Points bonuses.
Survival Tournaments:  An entry fee is played for the first round, and all subsequent rounds are free. Each round is a two-player competition in which the winner advances to the next round, and the loser is eliminated from the tournament. Prizes are usually awarded after every round, and the prizes grow larger with each round. The tournament goes on until one player survives a set number of rounds and all other players have been eliminated.
'TopThis' Competitions: compete against yourself by trying to beat a TopThis score which is calculated based on your previous scores to give you an estimated 50% chance of winning. TopThis tournaments are only available to members who have played a minimum number of cash competitions in a particular game.
Unlimited Entry Competitions: Fixed prize competition where you can  enter as many times as you want. Usually larger prize.
Gaming Software
The game software requires a (very fast) download. The download is Comodo certified and is completely secure.
Some games may allow you to play 10 trial games before requiring a download.
NB WorldWinner games use Active-X components that only work with Microsoft Internet Explorer version 6.0 and higher on personal computers running the Microsoft Windows operating system. As at June 2007, WorldWinner does not support MacOS, WebTV, Firefox, Mozilla and Netscape.
WorldWinner Bonuses & Promos
Cash players earn points redeemable for merchandise by playing games at WorldWinner.
The more cash competitions a player plays, the more points they will earn.
NB: Players outside the United States can only redeem Rewards points for WorldWinner Game Credits at this time.
Management & Customer Services
WorldWinner was founded 1999.
Each day, an average of 375,000 games are played on WorldWinner. That's equivalent to more than 11 million games per month.
WorldWinner is a subsidiary of FUN Technologies Inc. FUN's common shares are listed on both the Toronto Stock Exchange and the Alternative Investment Market (AIM) of the London Stock Exchange under the symbol "FUN."
Their Headquarters are in Newton, Massachusetts USA.
Customer services:

Support via email and Live Help.
Player Services Team is available between the hours of 9 to 5 EST
Live Help Hours: Monday to Friday. 1:00 PM to 10:00 PM ET
Money & Banking
The site operates in US Dollars
Cash competitions require a credit card or PayPal deposit to play.