Summary – MoneyGaming
MoneyGaming offer multi-player Backgammon with a fast and easy-to-use interface, beautifully realistic graphics and a raising option which lets you play for big stakes. Great range of other skill games available.
Please Note: MoneyGaming does not accept cash players from some US states.
MoneyGaming Backgammon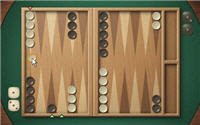 Choose a competitor from around the world or challenge friends and family.
Head-to-Head games with chat feature.
Choose your stake level, decide whether you want the 'raising' option, pick an opponent.
Auto-roll and Auto-send options.
On screen game hints available.
Useful interactive Backgammon tutorial on the website.
'Mid-Game Raising'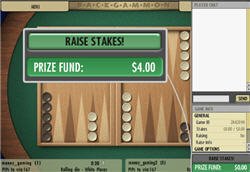 Exclusive to MoneyGaming. This allows you to increase the stake at any point during the game up to the raise limit. You do not have to play with the raising option. When you 'Create a Game' you can specify whether or not you want to play with this option.
Raising the game stakes means raising by one stake increment. E.g. if you started the game at $10 each, you will need to add another $10 each to make the raise, followed by another $10 each if you raise again.
You can only raise on your turn. If the raise is accepted, the game will continue. If it is declined, the game will terminate and the player who raised will win by default.
Gaming Software & Website Features
The games run on MoneyGaming's own proprietary software, which does not require a download. It uses cutting-edge technology with stunning graphics.
MoneyGaming's range of skill games include Backgammon, 8-Ball Pool, 9-Ball Pool, Gin Rummy, Snooker, Solitaire, PoolMasters, Chess, Secret of Maya, MahJong Pyramid, Quadrow, Reversi, Vorthex, 21&Fun and Icy Spell.
Players challenge each other, and never play against the house. MoneyGaming take a stake of the buy-in fee for the games you play:
Buy-in $1-$4 = 25%
Buy-in $5+ = 15%
Tournament Play
Depending on what your preferred game is, you can choose between:
Single player games – allowing you to play in your own time. Each player's score or time will then be recorded and weighed against other player's scores and the winners will be determined accordingly.
Multiplayer games – generally one on one play where you play against another player in real time until the game is finished and a winner is pronounced.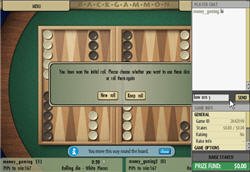 Multi-table tournaments – where players play in heats until the winners are determined.
Community features:
Messaging system lets you chat and send challenges to other players.
Create Buddy lists.
You can create your own profile and view other peoples' on the website.
Money Gaming Bonuses & Promos
Promotions vary, but when we last looked they had these:
Sign Up Bonus: Deposit $30 and get $10 Absolutely Free!
Reload Bonus: Deposit $100 or more and get 10% Absolutely Free!
Refer a Friend: $20 bonus.
Management & Customer Services
MoneyGaming has over 250,000 members.
They provide a secure, sophisticated and user-friendly gaming environment.
First class 24/7 customer service Live online or by email.
MoneyGaming is licensed in the United Kingdom.
It is owned by London based company, The Money Gaming Corporation Ltd.
Money & Banking
MoneyGaming runs in US$
You can deposit using the following payment means: American Express, Maestro, MasterCard, Neteller (except for U.S. customers), PayPal, Solo, Switch, Visa, Visa Delta and Visa Electron