Summary – Gammon Empire
Gammon Empire uses state-of-the-art Backgammon software, featuring stunning 3D graphics. Play for free or for cash to win BIG money prizes.  Join hourly, daily and weekly Sit & Go and Event tournaments. Improve your ranking among the huge field of international players, accumulate stars and redeem them for bonuses. Thousands of players online 24/7.  Learn to play in their special Backgammon School.
Note: Gammon Empire does not accept cash players from some US states. 
Backgammon Games at Gammon Empire
Live tournaments
There are plenty of tournaments you can get involved in at any given time (full schedule on site in Events Calendar):
Sit & Go – begin when a predefined number of players are registered
Swing – all players start with an equal amount of chips and continue to play until one player remains who accumulated all the chips
Events – begin at a predefined date and time Prizes can be up to several thousand dollars.
Game Play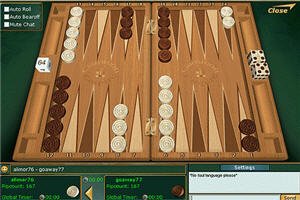 Choose between several rooms in which you can play. The screen shows players currently playing and which are looking for opponents to start playing a game.
Colour-coded player ratings give you an idea of the skill of an opponent, and the stakes for each game an opponent is willing to gamble. You can also see what rules the player wants to use to play the game.
You can negotiate with your opponent over what stakes are set (how much you want each point to be worth eg $5), and set limits on the maximum amount of money that can be won or lost.
The playing board is extremely user friendly. Just click your mouse on the dice when you want to roll. To move the checkers, drag and drop them into the position where you want them to be moved. As you move your checkers, the numbers on the dice dim to remind you of the numbers you have played.
To ensure play proceeds at a reasonable pace, every game is timed. You can choose to play either at  'Normal' or 'Fast' speed.
When playing a live match, there are two types of game modes:

Series (Match play) – a series of games between two players. It ends when one player wins by accumulating an agreed number of points.
Single game – games are played independently.
Commission Rates
Single Game commission is taken from the final winning sum (the winner pays for both players). The commission rate varies depending on how much is won.
Series (Match) commission is taken from the stake sum plus 0.5% for each additional point in a game over 1 (the winner pays both).
Gammon Empire encourage matches between 2 players with a similar rating level, therefore there are various financial incentives to play against similarly rated players – and penalties for playing against people with very different ratings (check out the site for details).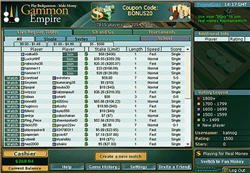 Software & Website Features
Join Gammon Empire's Backgammon School and improve your skills. Only 50 cents per game (first 4 games are for free!).
Range of useful informative articles on the website.
Top quality software by Logic Empire: easy download software, or there is a quick java version12 different languages to choose from.
Gammon Empire Bonuses & Promos
Promos vary, but when we looked they had these running:
Massive range of tournaments always playing, including some with huge prizes.
Get $2 free bonus for verifying your email.
REFER-A-FRIEND! Invite your friends to play with us, and get $20 bonus directly to your account for each depositing friend that you bring.
Management & Customer Services
Gammon Empire was launched at the end of 2004 and immediately attracted professional players as their Backgammon software of choice.
Over 1,500,000 members. More than 13,000 players online on average 24/7.
Customer care representatives are available to assist you 24 hours a day, 7 days a week. Instant response by phone pr maximum 24 hour response by email.
Some U.S states are blocked from playing on their real money mode due to legal reasons.
Money & Banking
Deposits can be made by the following methods:
All major credit cards such as MasterCard, Visa
Wire Transfers
Moneybookers
Neteller and Paypal