Summary – Game Account
Choose between Backgammon and Hypergammon at Game Account. Matches or tournaments, with players in over 130 countries competing for big cash prizes.  Play against others with a similar skill level to your own, or challenge one of the Bots! Free or cash games always available. Play in UK pounds, US dollars, Euros or Australian dollars. No download required.
Game Account Backgammon
Choose between Backgammon and Hypergammon. In Hypergammon each player begins with three pieces rather than the usual fifteen.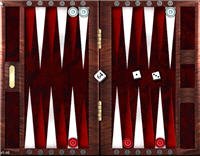 Multi-player gaming
Create your own tables, or accept others' challenges
simple sort and select lobby  to choose or find your game type in no time
three click game set up whereby you choose your game type, your stake and the level of player you are willing to compete against (rookie, amateur or pro)
MatchPlay Backgammon
Join a table displaying your preferred stake. Matches are won by the player who reaches the target point-score first. The winner receives his or her stake back plus their opponent's stake, less the applicable rake.
Tournament Backgammon
Regular programme of daily and weekly tournaments.
Fixed prize and Progressive Jackpot tournaments.
Range of different Tournament models (see below).
Player ratings
Player Rating system provides an accurate measure of a player's skill.  Player Rating goes up or down depending on a number of factors including: whether you've won or lost; how many games you've played; your aggregate wins & losses; and the player ratings of your opponents.
Players have a separate rating for each of the games.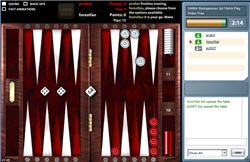 Backgammon Bots
Robot players are online 24/7 to play you for free or for real money stakes. Four different bots available, each with different features.
Other features
Auto-Roll
Flip Board. Gives you a different viewing perspective on the Board
Starters Tips and strategy guide to help you learn to play backgammon
Gaming Software & Website Features
The games run on Game Account's own high quality software.
Flash-based Multiplayer games
No downloads needed
Very user-friendly lobby
Their range of skill games includes multi-player Black Jack, Backgammon, Gin Rummy, Navel Wars and In The Grid, plus a selection of solitaire games to suit all tastes.
All the games can be played just for fun, absolutely free, or in competition with other players for real money prizes.   Unlimited practice-play is free.
Tournament Play
There are several different types of tournament available depending on your preferred game.
Single Player Tournaments – limited number of entries (usually between 2 and 8 players competing for the prize) and a fixed prize. When all the players have completed their games the prize is awarded to the person or persons with the best score or time.
Progressive Jackpot Tournaments –  each entry increases the jackpot prize until it is won by a player. Game Account sets the score or time "objective" to be beaten in order to win the jackpot.
Knockout Tournaments – Groups of players compete head to head to progress to the final.
Community Features
messaging technology similar to msn or yahoo messenger products allowing you to add players as friends and to chat easily with other players
separate chatroom for general chat
Commission
MatchPlay Rake:  10-5% of your stakes depending on stake levels (higher the stake, lower the rake)
MoneyPlay Rake: Set at no more than 7.5% of the Players' Buy In.
Game Account Bonuses & Promos
Bonuses vary but when we looked they had:
100% First Time Bonus – get up to $100 free
Management & Customer Services
GameAccount has been around since 2001 and is one of the largest games communities in the world. Millions are won every week by thousands of players competing from over 130 countries worldwide.
Lots of other sites actually feed their skill game players into the Game Account games (including William Hill, Sportingbet Group, BetCORP, PaddyPower, UKbetting and Victor Chandler International.)
GameAccount is headquartered in London, United Kingdom with offices in Sydney, Australia.
They operate under a gaming license from the government of Curaçao in the Dutch Antilles
24/7 customer service Live online, email or phone (Freephone in the UK) .
Games 100% guaranteed for fairness and integrity.
Industry-standard software and hardware solutions.
Player-rating system ensures you have an accurate guide to the level of skill your chosen opponent is likely to demonstrate.
Money & Banking
Play in UK pounds, US dollars, Euros or Australian Dollars.
Deposit via Neteller, Visa, Mastercard and Debit cards, as well as bank transfers and cheques.