Summary – Big Al Games
Big Al Games has basic, no frills, multi-player Backgammon. You won't find any of the more advanced game rules, or features such as player rankings. And there are no prizes for winning. But the games are Free!
Big Al Games Backgammon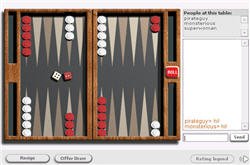 Multiplayer backgammon
Play free.
Very straightforward, no frills game and rules. No doubling cube etc.
Lobby system lets you quickly find a match against opponents from around the world.
Play against a friend, or meet someone new online to play with.
Chat window.
Game Software & Website Features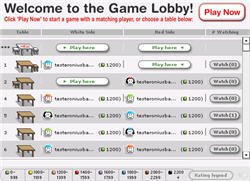 Big Al Games includes a wide selection of multi-player and single play games.
Choices include card games, board games, sports, action, arcade, words, solitaire, puzzles, and casino games.
Play for free from a variety of online and downloadable games. Or on most games you can buy the deluxe version with unlimited  play time, additional level and enhanced options for $19.95.
They seem to make a large share of their money from advertising so there are lots of ads around but they aren't too intrusive.
NB  You need to be in Internet Explorer to access the games.
Community features
Chat windows in the games.
Discussion Forums on the website.
Big Al Games Bonuses & Promos
Register for free membership to the Big Al Jungle Club and you'll get:
Banana points for every game you buy – exchange for free stuff
Bi-weekly notifications on new games in your favorite categories
Extra playing time on downloaded games
Special offers for Jungle Club members
Management & Customer Services
Big Al Games have been online since 2003.
Operated by Oberon Media Inc, who have around 120 partner-branded casual gaming sites, including MSN Games, Pogo, Blue Mountain, Playboy, France Telecom, Daum (Korea), and AOL ICQ.
Online support form: Inquiries sent to support will be answered promptly within 72 hour.
Money & Banking
The site operates in US Dollars
Payments by credit card.
They accept payment in six currencies: US Dollars, Singapore Dollars, Euros, Pounds Sterling, Australian Dollars and Canadian Dollars.