Summary – PartyGammon
PartyGammon belongs to the famous PartyGaming group. Your account also gives you access to PartyPoker, PartyCasino and PartyBingo. Range of daily Backgammon tournaments. Choose between Nackgammon and Hypergammon versions.
Note: Party Gammon does not accept players from the US.

Go check out this top rated backgammon site. Visit PartyGammon now
PartyGammon Games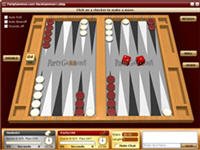 Game Play
Two variations of backgammon are played here: Nackgammon and Hypergammon.
You can play up to four simultaneous games of backgammon.
Options to create, join or watch a game.
Private game option, which other players will not be able to watch.
Many player features including autoroll and auto bearoff.Choose between World Backgammon Federation rules or Japanese rules.
Commission Rates
Single Games
$0 – $19 5%
$20 – $99 4%
$100 + 2.75%

Match
$0 – $19 4% (CAP 7%*)
$20 – $99 3% (CAP 6%*)
$100 + 2.75% (CAP 5%*)

* Additional commission of 0.25% for each additional point above one in the overall match. CAP will limit this amount.

To encourage matches between 2 players with a similar rating level PartyGammon makes various financial incentives to play against similarly rated players – and penalties for playing against people with very different ratings. (check out the site for details)
Live tournaments
Schedule of daily and weekly tournaments.
There are two types of tournaments:
Sit and Go tournaments are offered in a variety of games with buy-ins starting as low as $1.50. Sit & Go tournaments will start as soon as the required number of people have registered for the tournament. All games are randomly assigned.
Regular tournaments give you the chance to win big prizes with a small buy-in! The buy-in is added to the prize pool, while the entry fee is kept by PartyGammon.com. The prize pool is the product of the buy-in and the number of participants in a tournament.

Now experience the exciting Backgammon at PartyGammon. Simply click here
Our Backgammon Game Enjoyment Factor Rating:
Gaming Software & Website Features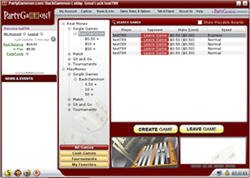 If you're new to backgammon, try the PartyGammon.com backgammon school. Complete rules, glossary and interactive tutorials make learning the world's most popular board game easy.
Also interactive tours of the PartyGammon game software.
Your account also gets you access to PartyPoker, PartyCasino and PartyBingo.
The software requires a download

Start enjoying this top quality casino now. Go to PartyGammon
Our Software & Website Quality Rating:
Party Gammon Bonuses & Promos
These change frequently so you'll need to check out the latest, but when we looked they had these:
various cash bonuses on top of your deposits up to an extra 100%. special bonus codes in their emails and on the site – keep an eye out for the latest.
Referral bonus: For each of your friends who joins PartyGammon.com as a real money player and fulfils the wagering conditions, you get a $50 bonus. As soon as your friend makes a real money deposit, they also get $25 bonus
$12,500 package guaranteed every Saturday & Sunday

Go take advantage of the latest offers at PartyGammon
Our Bonus & Promos Rating:
Management & Customer Services
PartyGammon is owned by PartyGaming, one of the world's leading online gaming companies since 1997.
Listed on the London Stock Exchange
Licensed & Regulated by the Government of Gibraltar
24/7 customer service by telephone (toll free in North America and Europe) and email

Now play at this honest and reputable gaming site. Go to PartyGammon
Our Customer Service Rating:
Money & Banking
All transactions, including the commission/rake, are in USD

Deposits can be made in a wide range of methods.

Your account can be used at any of the PartyGaming properties. (PartyPoker etc)
Our 'Party Gammon' Overall Rating:

Go win some games today at PartyGammon
If you're new here, you may want to subscribe to my RSS feed. Thanks for visiting!
Give your own rating:
Other players rated this casino:
Click a star to add your own rating.