Summary – Game Colony
Play Backgammon Matches and Tournaments any time at Game Colony. Join the free Backgammon ladder and challenge others to work your way up. Learn to play using the 'Gammonlab' or the strategy guides online. Game Colony are an extremely popular site with a great range of skill games. There are always lots of players online.
Note: Game Colony does not accept cash players from some US states.


Go check out this top rated game site. Visit Game Colony now
Game Colony Backgammon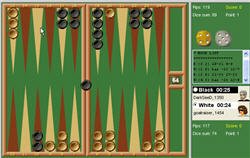 Challenge other players online to matches in the Main Hall – free or cash
Or purchase tickets for the Tournament Room
Backgammon Ladder
The Ladder is FREE and all players can participate.
Top Ten registered Ladder players each month receive prizes – $Tickets in their accounts.
Or buy a $Ticket account and enjoy an extra Ladder boost from playing Ladder Tournaments and Mini-Tourneys for $Tickets.
Special features for backgammon players
'Gammon Lab' lets you learn how to play against the computer.
Strategy tips on the website.
Backgammon players' Forum

Now experience the exciting Backgammon at Game Colony. Simply click here
Our Backgammon Game Enjoyment Factor Rating:
Gaming Software & Website Features
GameColony use their own proprietary software, which does not require a download.
Their range of head to head skill games include Canasta, Pool, Dominoes, Backgammon, Rock-paper-Skill, Cribbage, Gin Rummy, Checkers and Chess.
The arcade-style tournament skill games include: Solitaire, FreeCell, Poker Rush Solitaire, Pool Rush, Darts, BuckMan, Lines-Collapse, Rush 21 Solitaire, Pharaoh's Treasure, Backgammon Solitaire, Aqua-Rush and Pyramids.
Participants play against other players and never play against 'the house'. There is always a winner. Winners collect a prize based on the total tournament prize-pot, comprised of entry fees.
Supported Languages: Chinese, English, French, German, Greek, Italian and Swedish.

Start enjoying this top quality game site. Go to Game Colony
Our Software & Website Quality Rating:
Game Colony Bonuses & Promos
Multi-purchase discouts: Tournament entry fees are paid in a form of Tournament $Tickets, that must first be purchased. $Tickets are available in five packages ranging from 5 $Tickets for $5.95 to 100 $Tickets for $103.95
Bonus Tickets are deposited into your account as part of a promotion. Bonus Tickets can only be used as entry fees for the multi-player arcade-style tournaments.
Winnings in Bonus Tickets are transferred to cash-equivalent $Tickets upon your first purchase.

Go take advantage of the latest offers at Game Colony
Our Bonus & Promos Rating:
Management & Customer Services
GameColony.com was established in 1999.
They are owned by GC Corp.
The company derives profit from a percentage of entry fees paid to host the skill-based competitions. In exchange, GameColony.com provides a secure multi-player gaming platform, schedules and hosts competitive online tournaments, distributes prizes and maintains member's accounts and a user friendly entertaining site.
Customer service is via an online query form.

Now play at this honest and reputable game site. Go to Game Colony
Our Customer Service Rating:
Money & Banking
Game Colony runs in US$
You can deposit using the following payment means: MasterCard, Neteller (except for U.S. customers), Neteller InstaCash (except for U.S. customers), PayPal and Visa
Our 'Game Colony' Overall Rating:

Go win some games today at Game Colony
[tags]backgammon, skill game, gambling, backgammon review, game colony[/tags]
If you're new here, you may want to subscribe to my RSS feed. Thanks for visiting!
Give your own rating:
Other players rated this casino:
Click a star to add your own rating.